NFPA 70E Safety Training Standard for Electrical Safety In the Workplace
Meet Our NFPA 70E Trainers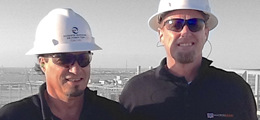 On-site training classes are available. Provides qualified persons (employees who will perform energized work on equipment) with skills and knowledge to perform their job safely. Meets requirements of NFPA 70E, Article 110.6 and OSHA 29CFR1910.332.
Our trainers have over a decade of experience in developing and presenting specialized training. We are certified by the NFPA and teach only the most current 2015 NFPA 70E guidelines and OSHA regulations. The training you receive from us will be not only informative and engaging for your employees, but it will be taught in a way that they will retain the information and utilize this knowledge on the job. Safety training does not have to be dull or boring, not the way we teach it!
Greg & Michael are two of our team members who travel the world to train workers at their work site, WHERE EVER that may be. When it comes to safety training, we believe no location is to far to travel.
Electrical Safety Training Curriculum
Our industry knowledge and training expertise make us the right choice for all of your Electrical Safety Training.
Our training curriculum will insure that you are OSHA and NFPA 70E complaint. Our training will also insure that the current skill set your employees already have will be enhanced.
Characteristics of an Arc Flash
OSHA – What do the standards mean to you?
Potential Injuries – Burn injuries are the #1 injury resulting from an Arc Flash related incident. We will discuss the full range of potential injuries including the psychological effects on the employees, relatives and the community when someone is involved in an Arc Flash incident.
2015 NFPA 70E Training:
Components of an effective Electrical Safety Program
Risk Assessment
Safe Work Practices
Training
Boundaries
Lockout/Tagout Procedures
Labeling
Auditing
Work Permits
Maintenance Requirements
Arc Flash PPE Categories
Clothing to match requirements
Employer/Employee Responsibilities
Request A NFPA 70E Safety Training Quote
If you answer no to any of the following questions; please contact us today:
Have you had Electrical Safety Training in the last year?
Have you and your personnel been made aware of the most recent changes to the NFPA 70E standard?
Have those standards been implemented into your safety program?
Do you even have an OSHA approved Electrical Safety Program in place?
At Macron Safety, it is our pleasure to help you create an effective Arc Flash hazard safety program that meets the strenuous regulations of OSHA and the NFPA 70E—to enhance the safety of your workers and your company.